On Saturday 29 July from 6-10pm, Nafasi Art Space will welcome visitors for an evening to celebrate and support Tanzanian art and culture. The event will include an art display and auction, dance performances, live music, comedy, and a fashion show.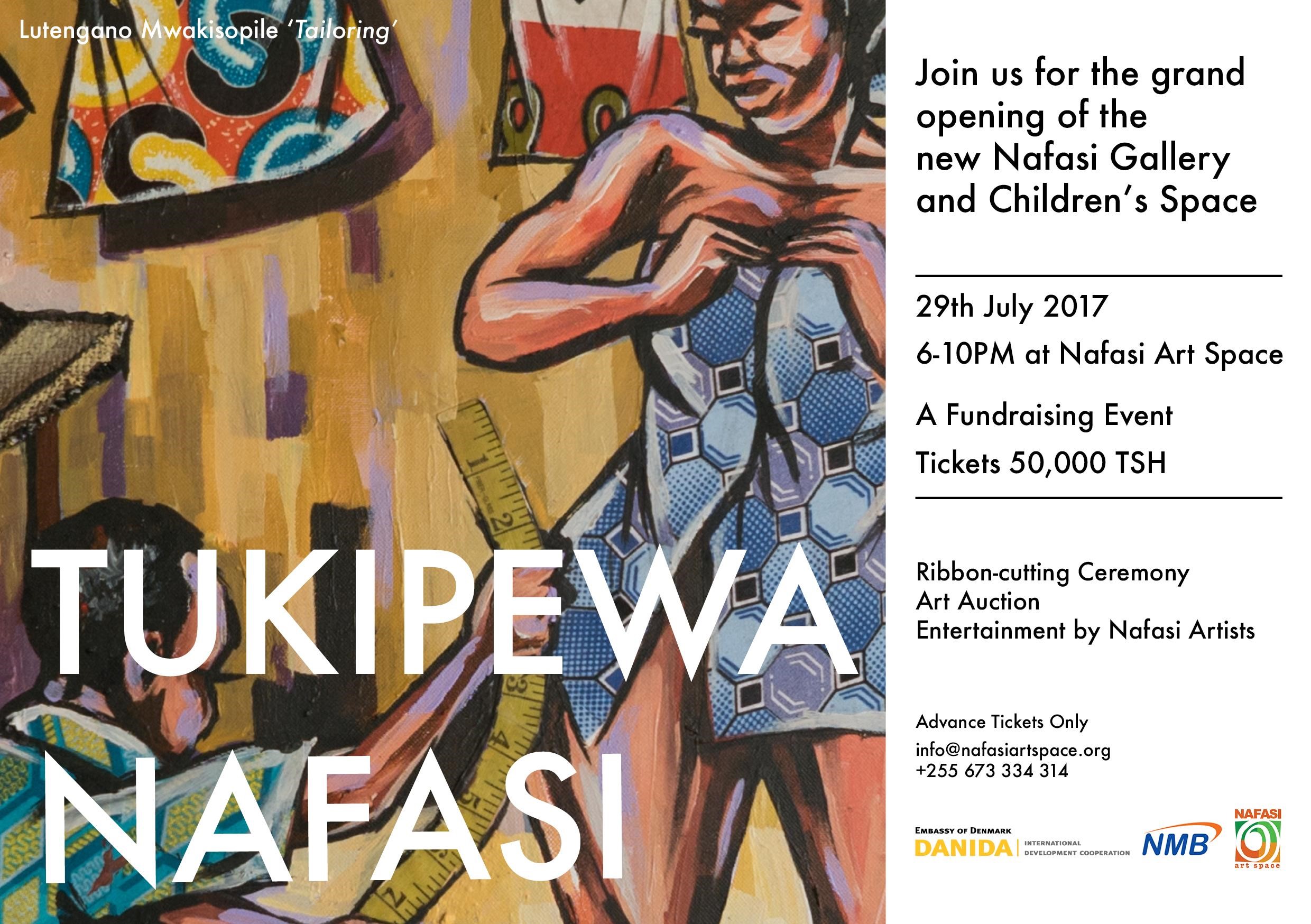 The event will start with the Grand Opening of the new Nafasi Gallery and Children's Centre. Guests of honor include Ineke Bussemaker, the CEO of NMB; Einer Jensen, the Danish Ambassador; and a representative from the Ministry of Information, Youth, Culture and Sports.
Visual art on display at the event will be by top Tanzanian artists, including Elias Jengo, Amani Abeid, Vita Malulu, Safina Kimbokota, Mwandale Mwanyekwa, Lute Mwakisopile, LocalFanatics, Masoud Kibwana, Thobias Minzi, Paul Ndunguru, and more. The artists will be exhibiting new works inspired by life in Dar es Salaam that celebrate Tanzanian culture.
The evening will continue with live performances from Nafasi Artists, and cocktails and canapes. Internationally acclaimed Jocktan Makeke is curating a live fashion show, and the well-known musician and music journalist John Kitime will be performing stand-up comedy for the first time. There will dance performances from Nantea Dance Company, MuDa Africa, and Shine Dance, and live music from Isack Abeneko and his band.
Tickets for the event are 50,000 Tsh and include a complimentary cocktail on arrival, and free soft drinks and canapes all evening. All proceeds from ticket sales go towards Nafasi Art Space programmes in 2018 and beyond, enabling Nafasi to continue to support Tanzanian art and culture into the future.
Tickets: 50,000 Tsh (advance booking only)
Tickets available at Nafasi Art Space, Black Tomato, or call or email Nafasi Art Space to reserve tickets.
Nafasi Gallery and Children's Space
The Nafasi Gallery will be officially opened at the event. It's inaugural show Tukipewa Nafasi will display the work of Nafasi member artists, highlighting the creativity that goes on behind the scenes. The purchase of artworks from the gallery will support Nafasi Art Space and the artists who work there. The exhibition runs from 29 July 2017 to 26 August 2017 and the gallery is open every day, Monday - Saturday from 10am to 5pm.
The Children's Centre, Nafasi Ya Watoto, is a new flexible space designed specifically for children. It will also be officially opened at the event. It includes an art book corner, an area for interactive art activities and display, and space for music and dance.
Both spaces are supported by NMB bank.
Nafasi Art Space
Nafasi Art Space was founded in 2008 by a group of Tanzanian artists to create a platform for contemporary Tanzanian visual art. We registered as an NGO in 2010 and have since created 37 studios, a general workspace, an exhibition hall, and a performance space in our vibrant open grounds in Dar es Salaam.
Today, Nafasi is one of the leading cultural centres in Tanzania. Nafasi hosts 60+ artists, including visual artists and several performance groups, as well as offering training, workshops, artist in residence schemes, and a lively programme of free public events.
Nafasi Art Space is supported by DANIDA and the Friends of Nafasi programme.
Contact 
This email address is being protected from spambots. You need JavaScript enabled to view it. 
www.nafasiartspace.org 
+255 67 333 4314 / +255 757 820 426