NMB Bank is proud to introduce and finally launch our newly redesigned website which is located at our new address: www.nmbbank.co.tz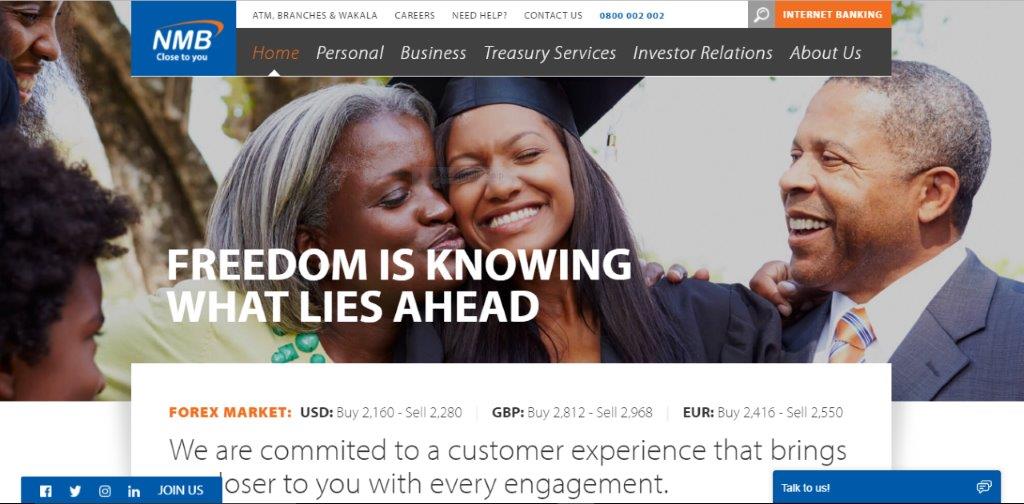 The new website has a clean design, improved functionality and enhanced rich content that is focused on increasing the visibility of our products and services. The new design also allows for streamlined menus, clear navigation, and a responsive layout for all platforms. We believe we have created a website that is user friendly and most importantly convenient in terms of usage, visibility and access to clear and thorough information for our customers, investors, partners and media.
In addition to the changed design and layout of the pages, new functions have been implemented in this version. The key changes made in the website include:
Personal and Business sections

We understand your banking needs therefore we have categorised our products to transact, borrow, save and invest to allow simplicity in what you are looking for when you visit our website

Comparison of accounts

This allows you to make a quick and easy decision of what account will work for you

Live Chat

You will now be able to talk to our Contact Centre agents during their work hours

Need Help

Of course our contact centre number is visible should a customer require help but we have also added the Need Help section for quick solutions to frequently asked customer service questions
 Images used of the website tell a story and are significantly poised to humanize our bank
NMB Blog

Our own blog content will demonstrate expertise, market leadership and most importantly it will give our provide valuable information and engaging content to our customers

ATM, Branches and Wakala Locator

Customers can now find their nearest NMB outlet at their convenience
Our new website will be updated on a regular basis with news of product and service launches, business information and events, investor and financial information and interactive content to name a few. Visitors are encouraged to explore the website, engage with us and you can even get the conversation started with us here: https://www.nmbbank.co.tz/join-us
Have fun navigating our new website!